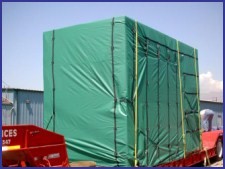 Lumber Tarps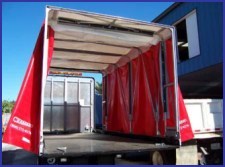 Cramaro® Tarp-All™ System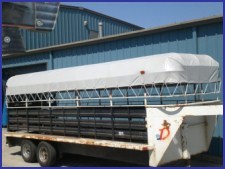 Horse Trailer Tarp
Truck Tarp Products:
Truck Tarps, Heavy Duty Tarps, and More
A&R understands that every truck driver needs to spend more time on the road and less time worrying about truck tarps and accessories. In fact it has been our philosophy from the inception of our company in 1976 that our primary job is to keep truckers on the road, and we do so by meeting their needs with what we can provide: tarp repairs, heavy duty tarps, truck tarps and designed truck cover systems, made from U.S. Fabrics and quality backed by our ISO-9001:2015 & AS9100D  registered standards.
We make your experience at A&R feel like you are a part of the A&R family. Our staff is highly qualified and with years of experience we will get what you need as quickly as possible, whether you need heavy duty tarps, a tarp repair, or simply stock parts.
We are a custom truck tarp manufacturer, but we also have many stock and ready-made items available to you for same day pick up.
Some of the stock items for your truck tarp needs are:
Rubber Straps ( 10", 15", 21", and 31" long)
Shur-Lok Tops & Assembly's (Large or Small)
Truck Bows (Galvanized Square Tubing)
Truck Bow Pocket
D-Rings
Rubber Rope 3/8" & 7/16"
Highway Rope
Elastic Cord
Tarp Repair Kit (SKP®)
Chain Binder (All Red)
20' Chain
4" Straps w/Loops or w/ Flat Hook
Strap Winder
2" Ratchet Strap or w/Handle
4" Delta Ring Strap
Mesh Tarps
12' w x 18' l
12' w x 24' l
12' w x 26' l
Lumber Tarps
Ripstoppers or Polytarps
Please contact us for more information, or click here to request a quote.