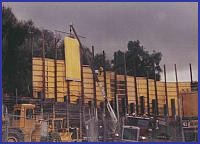 Construction Sound Barrier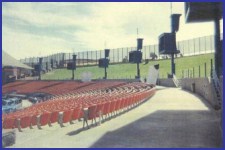 Shoreline Amphitheater
Sound Barrier & Wind Barrier Tarps
Sound Barriers are economical and can be easily installed. A&R can design and manufacture sound barriers for either indoor or outdoor industrial or residential needs. Please contact us to discuss your project in detail and also we will schedule an appointment to meet with you to discuss your requirements and goals, survey the site and take measurements. We want to give you, the customer, as much information from our experience resources, and expertise to make the best solutions for your project.
A&R's sound barriers have been used to enclose milling equipment, drilling platforms and drilling equipment and satellites during launch.
We currently use our American made PVC material for the outside layers of the barrier while adding fiberglass to the inside of the barriers for sound protection. There are many styles and designs to choose from our stock of fabrics.
Wind Barriers
Wind Barriers are great solutions for outdoor projects requiring shelter from the wind and wind-blown debris. In the image shown you can see how these are applied in the Shoreline Amphitheater outdoor concert arena in Mountain View, CA. The customer wanted to protect the venue and provide comfort and shelter for concert goers from the winds and/or debris. A&R used a mesh fabric to cover the area all around the arena's upper rear perimeter with over 120 panels, each 11'w X 36'h.
Please Contact us for more information or to place your order.