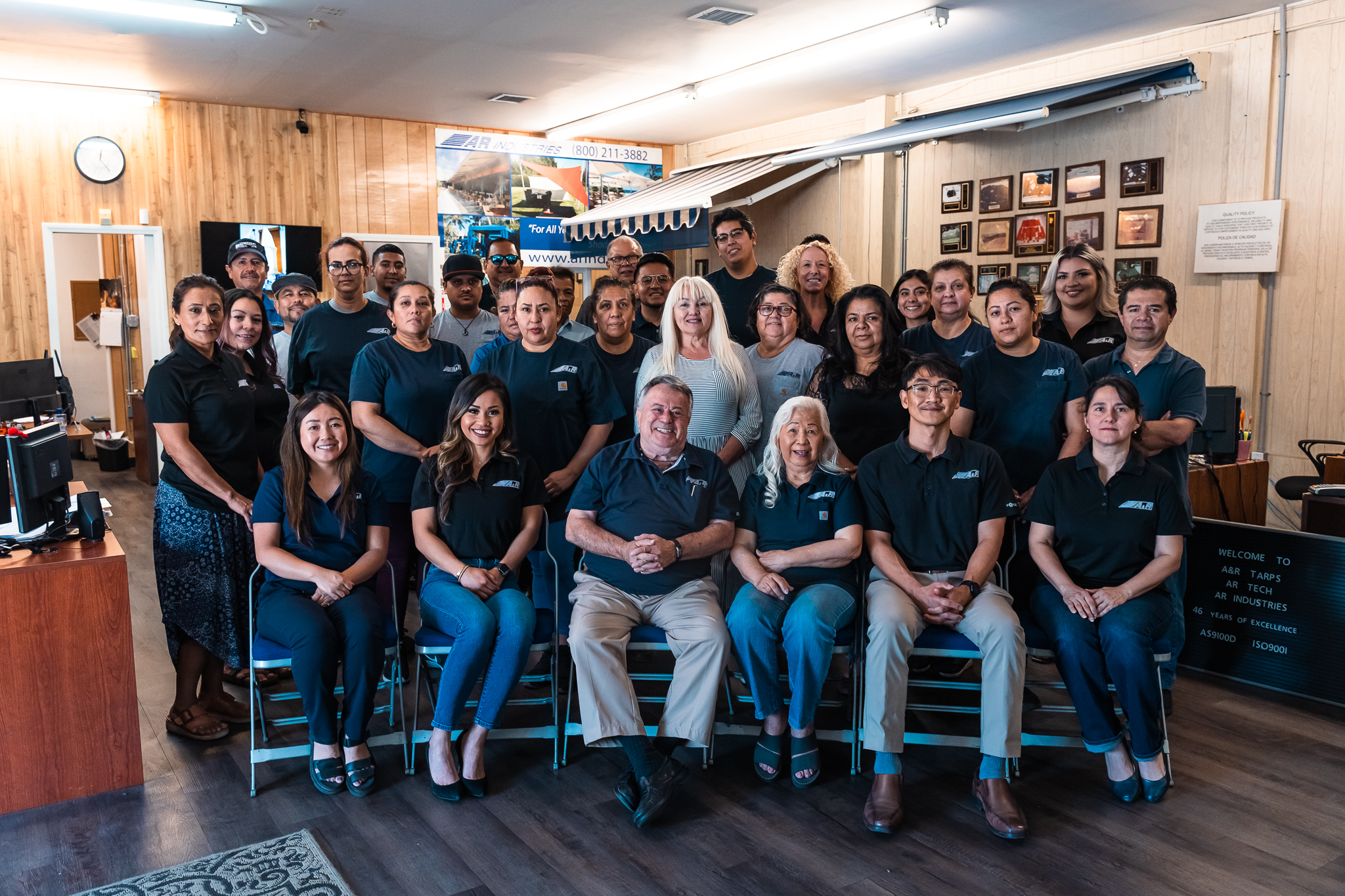 About Us: Retractable Awnings, Fabric Air Ducts, Tarp Repair Tape & More
A&R is committed to diversification in its products and services, focusing on fabric products used for aerospace and other technical, architectural and industrial applications.
At A&R we are committed to creating, designing, engineering and manufacturing unique and innovative products which will bring value to customers in meeting their needs for solutions that may not often be obvious upon the customer being aware of the potential for a fabric solution. Innovations such as our custom designed fabric air ducts, or our best-in-the-industry vinyl coated polyester tarp repair tape (SKP™), or our retractable awnings, have met or surpassed customer expectations in addressing unique requirements which in many cases had led those customers to suffer needlessly. For example, our fabric air ducts can be designed to bring cooler air to specific work locations, thus increasing worker's comfort and yield greater productivity. Our SKP repair tape has taken care of problems encountered by truckers on the road when their tarps have torn and they needed to continue their route without damaging their loads, and SKP has helped the tent rental industry when it is discovered that a tent was installed, but has a hole in it. Our retractable awnings and fixed awnings bring shade to a home or business in ways that has lowered temperatures inside that home or business and reduced the need to use air conditioning.
A&R's Quality Policy, and our commitment, is as follows:
"Our commitment is to supply products of uncompromised performance, reliability and quality, while ensuring that our first priority is service to our customers through our pursuit of continuous improvement in quality and delivery".
This policy was established when we received the registration and certification to comply with ISO International Quality Standards.
A&R has been compliant with ISO 9001 International Quality Standards since the early 2000's.
In 2007, in addition to our ISO 9001, we received our registration to the aerospace standard, AS 9100.
All of A&R's certifications and the international and industry awards we have received validate through independent international auditors and legitimized commitment that our company lives up to the principles established in our Mission Statement and Quality Policy.
Since the early 1980's A&R has been certified as a minority owned enterprise, and received SDB certification by the US Small Business Administration in March, 2000; and continues to be certified.
Capitalizing on our growth and ability to address requirements for "Fabric Solutions that are Quality Driven" we have diversified into such additional areas as indicated in the examples as diverse as our SKP repair tape, our awnings and architectural structures, and our flight hardware and ground support for the United States aerospace program.
Industries Served

Trucking
Aerospace
Military
Construction
Please call or contact us for an estimate on your custom tarp needs. We are always here to help you.
State of California CSLB License # 715211