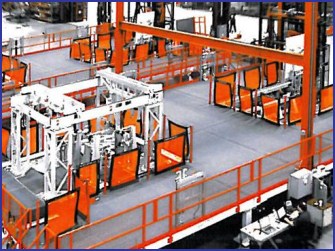 Safety Nets (aero assembly)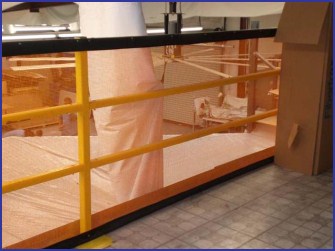 Safety Nets (on mezzanine)
Safety Net Barriers
Protective Safety Nets
A&R has been manufacturing safety nets and barrier curtains for many years.
The safety net barriers in the photos shown are used around aircraft assembly areas which have multi-level work stations. The barrier is rated at 1000lbs., and provides protection from falling tools as well as a margin of safety for the personnel working at the workstations.
Our safety nets and barrier curtains are a great way to add to the safety of personnel in any work environment.
We also make:
Visual Barriers--Such as fence covers.
Wind Barriers--Such as mesh barrier curtains and tennis wind screens.
Many of A&R's past projects have addressed significant challenges for the United States' aerospace efforts, and many have had to address the requirement to provide barrier curtains and enclosures to prevent visual and electronic observation as well as to provide fall barriers for personnel and equipment working in fabrication and assembly areas of our aerospace customers.
Please contact us to learn more, or to request a quote for your safety net and barrier curtain needs.