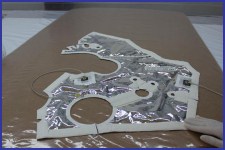 Single Layer Insulation Blanket (SLI)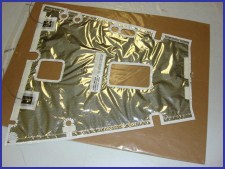 Multi-Layer Insulation (MLI)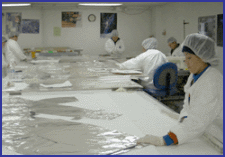 Production Staff Assembling Insulation Blankets in one of our clean rooms
Multilayer Insulation Blankets
The AR Tech a division of A&R Tarpaulins, Inc. can custom manufacturer Multi-layer Insulation and Single Layer Insulation (MLI/SLI) Blankets. Typically our Multi-Layer and Single Layer Insulation blankets are used in space launch vehicles or any devices that are exposed to both extreme heat and cold. Multi-Layer and Single Layer Insulation blankets work to protect delicate internal and external applications from temperature variation and static charges. The Multi-Layers are usually made of a film made out of polyester or polyimide with vapor deposited layers of aluminum on one or both sides of the film to form reflector layers. These reflective layers are separated by materials with low thermal conductivity. All the Multi-Layers simply protect the system by preventing excessive heat loss from inner components and excessive heating from outer sources.
AR Tech's custom manufactured Multi-Layer and Single Layer Insulation blankets have to be compatible to the environment and the temperature of the atmosphere which the spacecraft will be exposed to, which if between -150 ºC to + 120 ºC.; and secondly, they have to generate a minimal amount of particulate contaminants.
AR Tech works with CAD operators, and mechanical engineers who are capable of assisting in design concepts, as well as material recommendations. We are currently ISO-9001:2015 & AS9100D certified.
AR Tech also specializes in Electro-magnetic interference, or EMI, shielding. Our key is to collaboratively develop the approach to meet your requirements and your functional needs. Please do not hesitate to contact us should there be EMI shielding requirements.
Please contact us for more information regarding your EMI shielding or multilayer insulation needs.