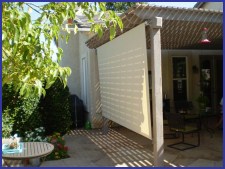 Drop Screen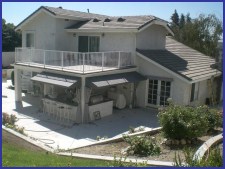 Awnings & Walk Along Curtains (open)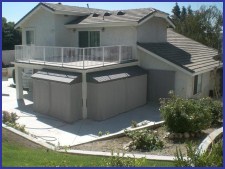 Awnings & Walk Along Curtains (closed)
Residential Shade Structures
AR Industries can provide custom manufactured retractable canopies which open those areas to more use by creating more living space. Currently A&R offers only retractable awnings/canopies and drop shades for residential customers.
Want to add more privacy to your existing patio and/canopy? We can provide:
Drop Screens (motorized or manually operated)
Walk-Along Curtains
Wind Screens
Do your have an existing wooden/alum wood patio pergola structure or gazebo that allows too much sunlight to come through? We custom make shade mesh covers and curtains (or shade mesh panels) for a solution to this exact situation.
Many customers want to extend their living space by adding a patio or deck, but may overlook consideration of the sun exposure these areas are subjected to. AR Industries can custom manufacture a fabric covered canopy to help you enjoy your outdoor living space. Some customers also request canopies to protect their outdoor BBQs or bars, outdoor equipment such as lawn mowers, or even help keeping your car cooler by adding a carport canopy to your driveway or on the side of your home.
Tired of replacing your gazebo covers on a yearly basis? Let AR Industries solve this problem. We will provide you with a custom fabricated new cover made from only the finest materials available in a variety of colors and patterns for you to choose from. The new cover will exceed the lifespan of the previous cover and will come with our industry leading warranty on materials and workmanship. But please keep in mind that for such situations the new custom cover for your specific gazebo the price for such covers might exceed the cost of a new gazebo itself but in the end you will have a cover that will last longer, look better, provide more value for your dollar, and be backed by our years of experience, craftsmanship and quality.
State of California CSLB License # 715211