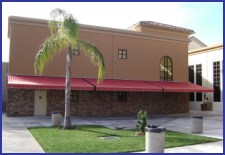 Retractable Awnings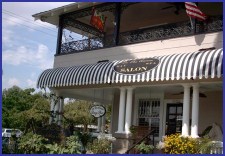 Quarter Barrel Awning w/ Custom Graphics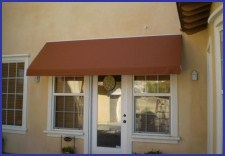 Traditional fixed awning
Custom Awnings
AR Industries is a custom fabric awning manufacturer for any commercial and residential project. Currently A&R offers only retractable awnings/canopies and drop shades for residential customers. AR Industries is committed to quality products and has been since the beginning. That is why we use Sunbrella® and Sunbrella® flame retardant fabric on most of our awnings as the requirements may call.
Sunbrella® is the leader in performance fabrics. And there's good reason people look to Sunbrella® first for their awning needs. No one else brings so much under one revolutionary, stylish brand.
Combine that with the Sunbrella® best-in-class10 year warranty and you have a performance fabric that's unbeatable. This limited warranty provides added security to the original purchaser of Sunbrella® Awning and Marine fabric (both the awning manufacturer and the customer) should the fabric become unserviceable due to color or strength loss from normal usage and exposure conditions, including sunlight, mildew and atmospheric chemicals. The limited warranty coverage period is ten years from the date or original installation and covers full replacement of fabric only for the first seven years and is pro-rated for the remaining three years.
Let your awning help save on your energy bills.
An awning will keep your energy costs down by blocking the sun's heat from directly hitting windows in warmer months. The American Society of Heating and Air Conditioning Engineers shows that an awning can reduce heat gain by 55 to 65 percent on eastern southern-facing windows and 72-77° percent on western exposures.
Don't forget that you can enjoy the great outdoors in the spring, summer, winter and fall with our fabric awnings, canopies and shade structures. Please Contact us today for more info, or request a quote for your custom fabric awning project.
State of California CSLB License # 715211