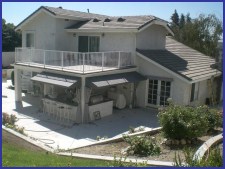 Awnings & Walk Along Curtains (open)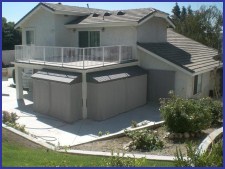 Awnings & Walk Along Curtains (closed)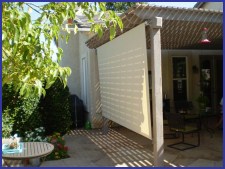 Vertical Drop Screen
Residential Curtain Systems Exterior
AR Industries' residential exterior curtain can provide privacy and protective enclosures for patios, gazebos and the open areas for homes providing protection, from wind, rain and the sun. The curtains can be made from solid and mesh materials and are engineered to meet all residential requirements.
The first solution a home owner thinks about when trying to solve rising heat temperatures in their home is to add interior window curtains. Though this may help, the real solution is to stop the sun rays from actually hitting your window.
Vertical drop screens are low-profile solutions. These exterior screens can be manually operated using a hand crank or can be operated using a wireless remote controlled motor. The screens can run either on a vertical track or can be guided down with a 3/16'' stainless steel cable on each side to secure the screen from being moved by wind. These vertical drop screens are much more heavy duty then those found at local hardware stores that are operated by using a simple chain and pulley system.
Another solution and one more commonly used to enclose existing patios or other structures are walk along curtain systems. Since 1976 AR Industries has pioneered the use of curtain enclosures for homes and businesses. There curtains provide protection form the rain, sun and wind. And can be made in walk-a-long or rail configurations.
These curtain systems are an excellent way to add both privacy to your home and also cool the temperature inside your home.
The walk along curtain systems move from side to side by simply pulling the curtains manually. Once in use, the curtains can be secured with sewn web straps and ground anchors can be installed per customer's request. Strapping down these curtains when in use is highly recommended to ensure customer's safety in the case of gusty winds.
State of California CSLB License # 715211